Currently Reading:
Tolstoy and the Purple Chair
by Nina Sankovitch,
Little Women
by Louisa May Alcott,
Wildwood
by Colin Meloy, and
The Yellow House
by Patricia Falvey
I have had a difficult time starting this post, which is odd since the books I want to discuss are ones I absolutely loved and which had a deep impact on me; yet for some reason I am having trouble translating those feelings and responses into words. However, I will try.
Recently, I have wrapped myself up in the lives of two female authors so completely that I have found it difficult to become absorbed in other things. Though I have read voraciously these past several weeks (finishing nine books and currently working on four more),
Marmee & Louisa
by Eve LaPlante and
Charlotte Bronte: A Passionate Life
by Lyndall Gordon have been my favorites of the bunch. While I had planned on reading LaPlante's book, thanks to a great recommendation by my reading twin Mabel at
Maple & A Quill
, once I started reading about one inspiring, strong-willed woman author, I wanted desperately to read about another. So from 1850s Concord to 1830s Yorkshire I went, journeying through the lives of two remarkable and different-but-similar women.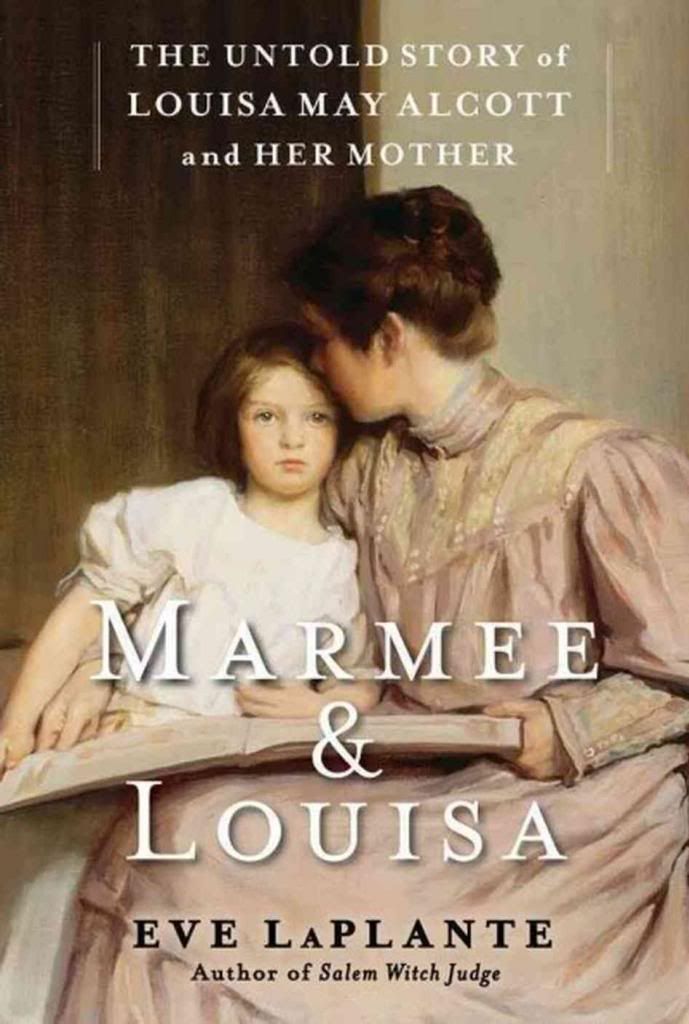 I really find it hard to describe the excitement I get when I pick up books by or about either Louisa May Alcott or Charlotte Bronte. I have found, through their works and especially their personal writing, a deep affinity with both, a friendship of understanding that exists only in words. I first discovered this when I read
Eden's Outcasts
by John Matteson last year, a biography about Louisa and her father. (Follow
this link
to my post from last April). In Louisa, I recognized something of myself- we are different, but we are also so very much the same. With the new publication of
Marmee & Louisa
, I was interested to examine the other end of the spectrum from Matteson's work- Louisa's relationship with her mother. In doing so, I learned a remarkable lot about Abigail Alcott and gained a new-found respect for the woman who is largely ignored in much of Alcott scholarship but who figures so prominently in Louisa's own work. Here, Abba's journals and letters were explored, and her history and background given more central focus. A kindred spirit to her daughter, Abba too felt passion and expressed it in her writing, and strove to make her voice heard; ultimately, she did not succeed in her life's ambitions, but she was able to nurture and watch her daughter make the strides she could not. The plight of "woman" in 1800s America is keenly felt in the story of Abba Alcott, and I felt my blood boiling more than once for the injustices that held intelligent, free-thinking women like her back from their full potential. Even Louisa, who fulfilled her dream of writing and earning an independent wage, was not famous for the themes she explored in her other works, but for the children's stories she was asked to write as a woman, something that truly bothered Louisa. This book explored more fully Louisa's attachment and affection for the women in her life, namely her mother and sisters, as well as their influences upon Louisa's life, perspectives, and writings. It allowed me to learn about Louisa in a fuller context, as did the biography/history I read a bit later about Transcendental Concord called
American Bloomsbury
by Susan Cheever. LaPlante's book was a celebration of what women like the Alcotts endured and achieved, and most particularly, examined the strength of the mother/daughter relationship. It was a beautiful work, one that filled me up with inspiration, like a full stomach after a satisfying meal. Yet it still left me hungry for more.
I vacillated between another Alcott biography or a different biography altogether, and settled on reading about Charlotte Bronte, another woman writer who pushed the boundaries of feminine propriety and determined to make her voice heard.
Charlotte Bronte: A Passionate Life
was the one- in form, it is a biography, but it is actually more of a discussion of Bronte's work and the life experiences that led to the themes, characters, and style of writing found in her novels.Why I never realized before how much more I could learn about
Jane Eyre
by reading about her creator, I will never know. I feel, once again, a deeper appreciation and understanding of
Jane Eyre
because I finally feel as if I know and understand what Charlotte was trying to say with her work. Through Gordon's book, I was given an introduction to the way that Charlotte viewed the world, her perspective and her thoughts, and how she voiced her views with her writing. Much of her work has an autobiographical tinge to it, which I knew, but details that Gordon offered up were eye-opening. For instance, I had never known that the character of Helen Burns was modeled on Charlotte's older sister Maria, who also died of consumption at their harsh boarding school. Another aspect of
Jane Eyre
was revealed as part of Charlotte's own struggles: "Part of Jane's experience is to know the extremes of a seething, chaotic life and one of disciplined order. It is here that Charlotte Bronte gave form and meaning to the private extravagance of her own life tugged between the claims of the self and the claims of society." Gordon goes on to explain that Jane must try to find a balance between the heat of unrestrained passion (her initial relationship with Rochester) and icy indifference and cool reason (St. John Rivers), and does so when she finally returns to a changed Rochester. There is so much in Charlotte's life that will now color my reading of
Jane Eyre
; in particular, Gordon gave a fantastic analysis of Rochester and of Bertha, stating that while many modern feminists decry the treatment of Bertha, especially at the hands of a woman writer, Bertha is meant to symbolize the type of woman that Charlotte detested- "rich, thick, insensitive beauties." Bertha also acts as "a warning of mindless passion," of what one can become when reason does not temper passion. Charlotte sees Bertha as the cause of her own misfortune, treating her as "a warning more than a character." Charlotte's writing explored how women could express themselves fully in a society that had strict expectations of what a woman should and should not say. She felt a fire within herself that she did not see in many other women she knew, besides her equally forthright and passionate sisters.
I can see now that Charlotte and Louisa have many things in common: their passion, their refusal to be anything but who they were, their desire to make their voice heard through writing, and their dependance on expression and writing as a part of themselves. Both women wanted to speak out as women to depict what women were actually like, and they both explored the drawbacks women often faced. Both women suffered from spells of depression and loneliness, finding solace and meaning in their work. I find it no coincidence that one of Louisa's favorite books was
Jane Eyre,
for I think both women shared a similar perspective of the world, despite differences in location and age.
Both Gordon and LaPlante discussed Charlotte's and Louisa's other works in great length as well, which has inspired me to pick those up someday soon. Astonishingly, I have barely read any of either Charlotte or Louisa's novels, despite viewing them as two of my favorite writers.
Jane Eyre
of course is my literary bread-and-butter; of Louisa's writings, I have read
Little Women
several times and have read a few of her short stories. I love reading
about
them so much, that now it is time to meet them in more of their own work. But, true to form, I still have more biographies planned and I can't contain the spark of excitement in me when I contemplate revisiting both women. All in all, I have spent several wonderfully enjoyable weeks in the minds and souls of two remarkable writers, and I have come away feeling more inspired than ever before.