"O day of days when we can read! The reader and the book, either without the other is naught."
~ Ralph Waldo Emerson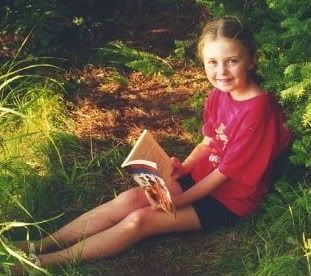 On a perfect day, I would be sitting in a coffeeshop with a steaming hot mug of tea discussing books with someone I care about. Since I can't do that every day, I started this blog instead. Here I can openly discuss books, revel in the joys of reading, and write about my life along the way.
I am a Christian, a wife, a sister, and a daughter. I work in the Local History & Genealogy Room at a public library and am working towards my master's degree in Library & Information Studies. I feed my soul by spending time with my Nathan and indulging in my hobbies, which include reading, studying history, writing, cooking, reading, going to farmer's markets, studying Irish history, being in nature as often as I can, taking walks, baking bread, reading, cuddling with my kitty, crocheting, visiting cemeteries, and reading. :)
If I had to describe myself in one word, I would choose "passionate." (In fact, I just asked my husband which word he would use to describe me and the first thing he said was "passionate." So now I am justified in my choice.) I am passionate about the people I love and passionate for my hobbies and interests. I also tend towards being very emotional and dramatic (think a mixture of Jo March and Anne of Green Gables), which I suppose is part of being a passionate person. I live to suck the marrow out of life, to discover and live out my purpose, whatever it may be. Through this blog, I hope to inspire others and feed my passionate soul. So grab some tea, pull up a chair, and join me!