Currently Reading:
American Bloomsbury
by Susan Cheever and
Little Women
by Louisa May Alcott
I have been reading so much lately that I hardly know where to start when discussing it all. Tonight, a small discussion and some impressions of
The Book Thief
, a book about a German girl, WWII, the power of words, and Death as narrator. Here we go.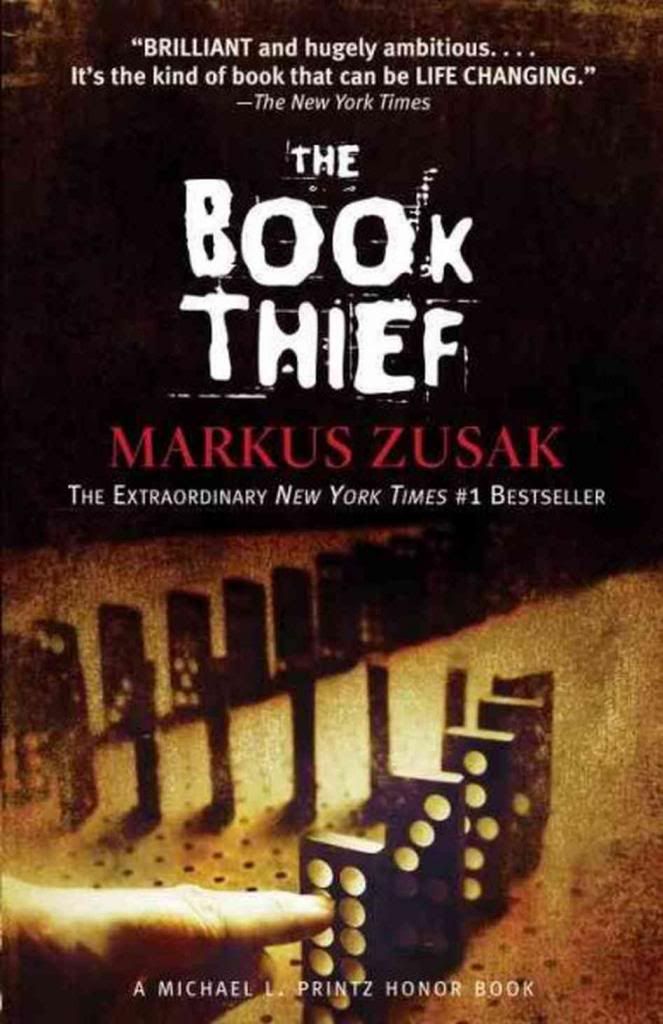 "Rain drops like gray pencil shavings"... "moonlight like a strand of hair"....."a voice like suicide." Markus Zusak has a brilliance with words that pushed me over with a force and a strength as I read
The Book Thief.
Before I discuss the story itself, I have to mention the words, the writing style, that makes this book so different from others I have read. In this book, similes and metaphors describe the world in different and wondrous ways,
as
the sun sheds tears and the sky turns the color of breakfast. Verbs do not act the way they should, performing acts in ways they have never done before. Feet
scold
the floor, Liesl's voice
tramples
on words as she reads aloud, another voice
hands
a question to the listener. The use of verbs and metaphors are almost magical in their strength and potency. The twist of words really makes this book powerful. Which is perfect, really, since the book is about words- their power, their strength, their potential for harm and for good.
How can one even find the words to adequately describe
The Book Thief
? It is beautiful in its story, captivating in its writing. I listened to the audiobook, which was achingly beautiful; I highly recommend listening to it.
The Book Thief
is a story of human beings- what we are capable of, the dark and the light, the ugly and the beautiful that we have within us and that can be found among us. It is about human potential, human frailty, and human strength. It is a story of the power of words- how they can heal and tear down, build up and destroy. I especially enjoyed that it was a story from the German citizen's point of view, which is often not "done" in WWII novels. Here, we see that everyone suffers in war, that no one is immune from the hate that words can conjure up or the love that words can also produce. It is an essential lesson for many of us who think we understand that time but never can and never will. The book is beautiful in so many ways;
so many days later, it continues to haunt me.
I couldn't shake the book off of me, so I scoured the Internet for links and interviews, biographies of the author, book club interpretations.
Here is a link
to a great interview of Markus Zusak, the author, and of his decisions in writing
The Book Thief.
However, it does contain spoilers so only read it if you have already read
The Book Thief.
I also found
an interview
of him for The Guardian that is about how and why he writes, which is pretty interesting.
The Book Thief was so thick, so potent with emotion that I know it is a book that I will have to read and reread before I feel as though I have fully internalized it. I especially love books with characters that are so utterly human, I forget they are not real. This book overflowed with these characters- Hans and Rosa Hubermann, Liesl, Rudy, Max, the mayor's wife, Frau Holtzapfel- they all leaped from the page into my soul, as dear to me as my loved ones. Death as the narrator completely changed the entire rhythm of the reading, because it is something so foreign and yet so brilliant. He too is a character that I loved deeply. The story was not predictable, which cannot usually be said about WWII/Holocaust books. It took my breath away, knocking the wind out of my lungs as it dropped me down. It was sad of course, but it also ended so well. A friend described the reaction to the end of the book, after the tears, as simply a contented sigh. Exactly.
I hope you discover The Book Thief too. I have no doubt it will become part of you, as it did to me.