Currently Reading:
David Copperfield
by Charles Dickens and
Harry Potter and the Order of the Phoenix
by J.K. Rowling
IT SNOWED! I know, I know. Everyone is now groaning and thinking, "Not
another
wacko who thinks snow is something to
celebrate
!" Yes, it's dangerous and terrible to drive in and scares the bejebus out of me when I or someone I love has to travel during the winter. Who would like shoveling the freezing stuff off of their car, I ask you? I have a love-hate relationship with snow, believe me. I personally think snow is the Devil's plaything when it blows sideways into my face in sharp gusts of wind; and I certainly can't take the cold for long... (If you know me at all, you'll know that I get cold in summer time... so winter is especially detrimental to my inner thermometer.)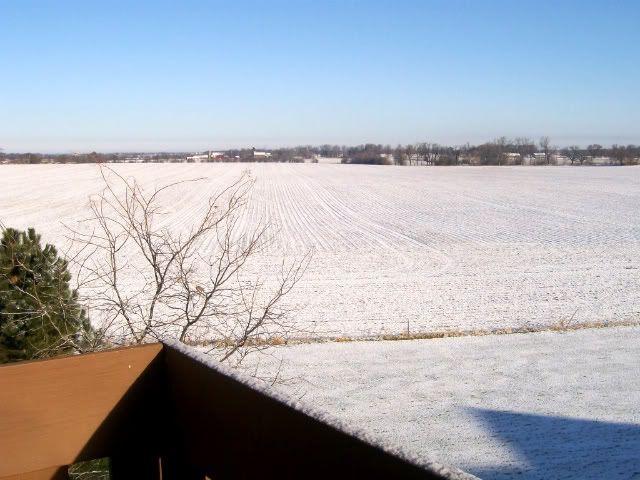 But this.... sigh. This shimmer of sunlight reflected off of newly fallen snow dancing across my bedroom wall... this slight dusting of snow on the bare world like powdered sugar on freshly-baked brownies... this sense of peace and calm that fills my beauty-hungry soul when the world gets dressed in completely different attire from its everyday garb. This is why I love snow. And in honor of our brave new world today, here is a poem that I love revisiting with every new and gentle snow. (It's another from Billy Collins.... is it obvious that I love the man?) He has written several about snow (I also like Shoveling Snow With Buddha and Neither Snow, but this is my favorite.) Music and nature just go so well together. Enjoy!
Snow


by Billy Collins

I cannot help noticing how this slow Monk solo
seems to go somehow
with the snow
that is coming down this morning,

how the notes and the spaces accompany
its easy falling
on the geometry of the ground,
on the flagstone path,
the slanted roof,
and the angles of the split-rail fence

as if he had imagined a winter scene
as he sat at the piano
late one night at the Five Spot
playing "Ruby, My Dear."

Then again, it's the kind of song
that would go easily with rain
or a tumult of leaves,

and for that matter it's a snow
that could attend
an adagio for strings,
the best of the Ronettes,
or George Thorogood and the Destroyers.

It falls so indifferently
into the spacious white parlor of the world,
if I were sitting here reading

in silence,
reading the morning paper
or reading

Being and Nothingness

,
not even letting the spoon
touch the inside of the cup,
I have a feeling
the snow would even go perfectly with that.