Currently Reading:
The Selected Letters of Louisa May Alcott
,
The Guynd
by Belinda Rathbone, and
Life After Life
by Kate Atkinson
May is here! Blessedly, my semester is winding down and I am feeling the first breaths of freedom mingling with the scent of spring. My shoulders already feel lighter and I am ready for several weeks of catching up on projects (including some new recipes I'm aching to try) and taking time for reading, walks in the evenings, and ice cream stops with Nate.
Some happenings from the past two weeks:
My seedlings have sprouted! (No picture this time, but I'll get one soon.) The sight of those first little green shoots, poking out of the soil after only several days, gave me such a feeling of awe. Biology aside, there is something entirely magical about the Earth, her resilience and fecundity, the amazing results that come from the harmony of sun, soil, and water. I have always needed to be close to the Earth, shedding my shoes so my bare toes can sink into the grass, pressing my back against trees as I read underneath them, watching the ever-changing sky. Growing up in the country, and part-time on a dairy farm for some years, I was in constant contact with the world around me. I have memorized scents and sounds that I carry with me, that are part of me like the marrow in my bones. So much of my experiences were prompted and encouraged by my parents and my grandparents. My sister and I were raised to be part of the outdoor world, to appreciate it and to care for it. I yearn for the day when we have our own acres to roam on, so that my children can experience many of the same things I did: the taste of carrots pulled from the ground, dirt still clinging to them; the sight of clothes flapping on the line; watching deer at the pond; rescuing crows and baby ducks; making forts and fairy places amidst the trees; letting the magic of nature influence their creativity and ideas. If I hope to pass anything on to my children, it will be our strong connection to the land, and our responsibility to take care of it, emphasizing the magnitude and privilege of that responsibility.
~~~~~~~~~~~~~~~~~~
Nathan has a new part-time job at a living history museum for the summer, which is good news for him and for our pocketbook! He's learning all sorts of amazing historical skills, including fence building and blacksmithing; last week, during training, he got to hold a baby lamb. I couldn't be more envious. He really is an amazing teacher and that translates well into museum work. He knows how to talk to tour groups, how to pass on historical information in ways that are accessible to all age groups. I'm proud of how he has accepted the difficulties and disappointments of not finding a teaching job, and how he strives to find ways to use his talents and follow his passion. His career plans have not followed the path he once imagined, but he does not let that discourage him. He throws himself into the work he does, passionate about all of it, regardless of what it is. He is dedicated, with a strong work ethic, willing to do whatever needs to be done, and I ardently admire that. Sometimes he feels that he doesn't do enough for us, that he could do more. But I think he's Superman.
~~~~~~~~~~~~~~~~~
I met Dr. Jane Goodall last week.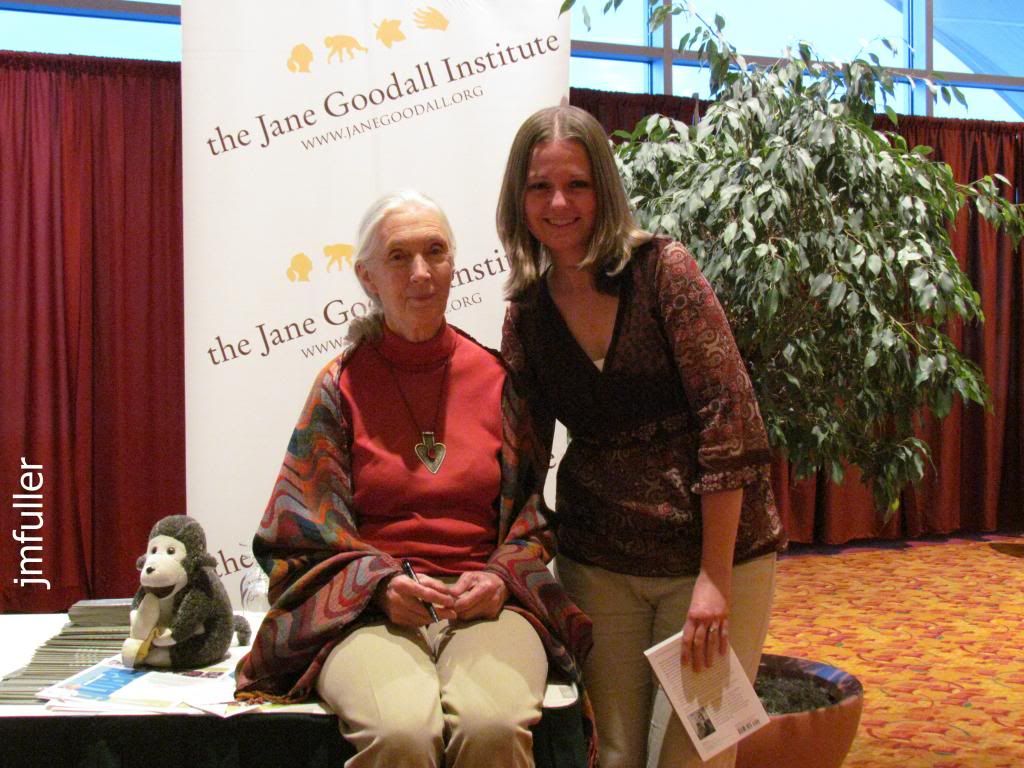 I'm leaning over awkwardly, barely breathing. She looks stunning, as always.
In a conversation with the woman sitting next to me at the conference, I mentioned that Dr. Goodall was one of my role models growing up. The lady then asked if I had gone into science; when I said no, she laughed and said Dr. Goodall couldn't have been that much of a role model for me. That comment left me speechless for a second. As a young girl, I didn't see her as just a scientist; I saw her as a woman who stuck to her guns, pursued her passion, and made something of herself. Deep down, I think I recognized that I could be like her. Maybe not literally, with chimps in Africa (though at the time, I thought that was the coolest job in the world) but that I too could accomplish anything if I believed in myself. (Cliche? Maybe so, but also a deeply important concept for my young self.) Instead of boy band posters, my walls were papered with posters of animals and Dr. Goodall. She was an inspiration to me, someone I wanted to be when I grew up. I remember thinking we even looked the same, pleased at the semi-similarities- blond, ponytail, plain shorts and T-shirts. No makeup, no fancy hairdo. In my awkward tween years, I appreciated that. Even at 11, I recognized that she had accomplished amazing things by her intelligence and determination alone. I was in awe of her. And in fact, you don't have to be a scientist to appreciate Dr. Goodall, to be inspired by her. I think it makes absolute sense that she can be a role model for any young girl, because of what she accomplished, because of her drive, because she didn't let her gender define her in the field. I still find her awe-inspiring. I cried when she took the stage, as I stood up with the crowd to hoot and cheer. Right before this picture was taken, I looked her in the eye and told her it was nice to meet her. "It's nice to meet you too," she replied. And that was that. I may not be a scientist, but I know she made a difference in my life.
~~~~~~~~~~~~~~~~~
Tomorrow is my Mom's birthday. As I've gotten older, I've come to appreciate my mom more and more, appreciative of not only everything she has done for my sister and I, but also appreciative of who she is as a person. We share so many similiarities and we've gotten closer as friends. I love calling her up after a day at work to chat and laugh. Like all of my parents, she has been one of the guiding forces of my life, encouraging us, supporting us, teaching us. Happy Birthday to a wonderful mother! I'm so blessed to have you in my life.
Reading at Oma's house. I love old pictures.
~~~~~~~~~~~~~~~~~
Book talks. Books are best when we share and discuss them with others. Thankfully, I work in a library, so I get to talk books constantly. Just this morning, I talked
Antigone, Oedipus, Silas Marner,
Toni Morrison, and
Ethan Frome
with my coworkers. The other day, I received a book loan in the mail from my aunt, a memoir set in Scotland, which just goes to show how well my aunt knows my reading tastes. And last night I had a great discussion with one of my best friends on a book we both recently read,
Among Others.
Just a ten-minute conversation about God and free will and destiny, but it was so refreshing, a reinforcement of our connection and our friendship in one quick book discussion. Sharing books is so much more than just recommending. It strengthens and reinforces our relationships with each other in a way that is hard to emulate in other aspects. Life doesn't offer us many opportunities to bare our souls and reveal what is there beneath the surface. But by sharing books, we are given the chance to open a window that may otherwise remain closed, offering others the opportunity to see deeper within us.
~~~~~~~~~~~~~~~~~
And finally, my latest used book sale finds.
Why yes, that is my eighteenth Jane Eyre
.
There isn't much in this world that beats bringing home a stack of books that cost less than 10 bucks. We did well- Nathan got a stack too. The only downside is that we have started making piles of books on the floor, as our bookshelves can no longer support our terrible book-buying habits. Oh well. Sacrifices must be made. Who needs floor space anyway?
Have a great weekend, friends!