Currently Reading:
The Selected Letters of Louisa May Alcott, The Red-Haired Girl from the Bog
by Patricia Monaghan, and
Life After Life
by Kate Atkinson
I kept an "Ireland journal" on our trip, spending an extra hour or so before bed writing down my thoughts and impressions of the day, preserving the memories before they got stale. Although some nights I was almost too exhausted to stay awake, I knew how essential it was to put our journeys into words. Besides my photographs, the journal is my most beloved souvenir. Some excerpts, for your enjoyment....
May 18th
".....Our next stop was Corcomroe Abbey, a Cistercian monastery from the 12th century. It was so remote and peaceful, gray stone against a green hillside. It was haunting in its loneliness but with a quiet, strong dignity, as if it knew it was no longer what it was, but it held on to the pride of what it had been."
May 20th
"What an amazing day. We walked through a sixth century monastic site, looked in tide pools, tasted the salt spray of the ocean on our lips, found seagull eggs, and sat on the cliff rocks, listening to the wind and waves, surrounded by nothing but nature and stone remnants of the island's holy past. I can't even begin to describe the magic of Inishmurray..."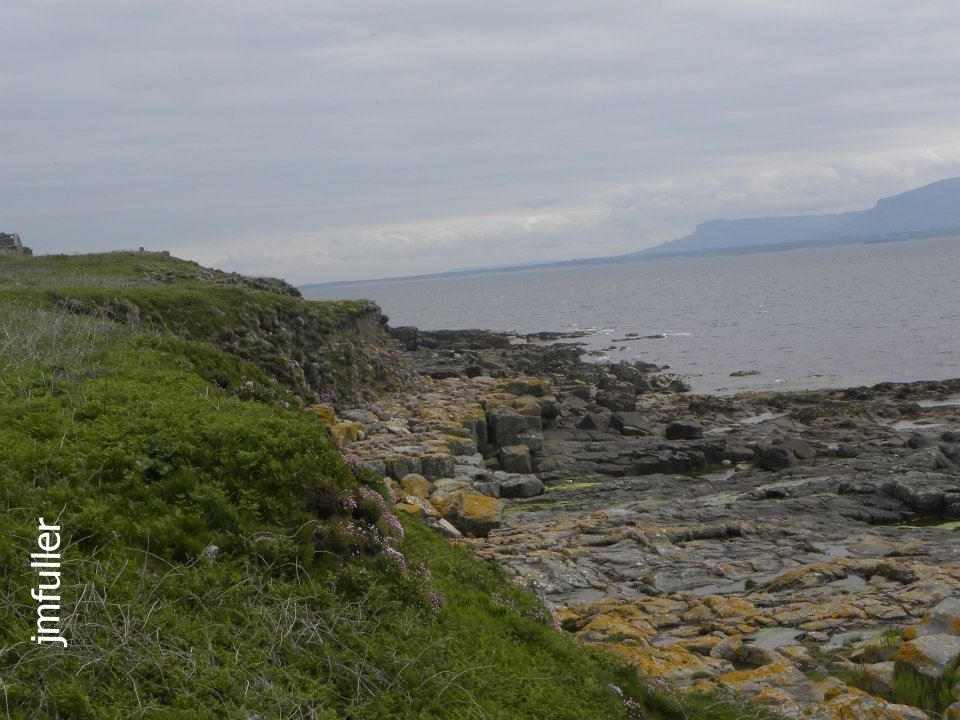 May 21st
"On the way home [from our trip to the Aran Islands], Nathan treated me by stopping at a public beach along [Galway] Bay. It was entirely empty, but for us, and with my pant legs rolled up, I got to splash in Galway Bay. The sun came out, piercing the water with light and creating a scene of such beauty- sun and water, cloud and sky, mingling together to create something perfect."
May 24th
"I am not a city person. I have never been comfortable in bustling crowds, surrounded by a crush of people and traffic. Yet with that said, I have to admit that I love Dublin....I love the streets, winding and narrow, flanked by buildings that have stood here for hundreds of years. There are no ugly skyscrapers blocking the sky, no subway thundering overhead. There is room to breathe, beautiful statues and buildings, not to mention Merrion Park & St. Stephen's Green. The city breathes the history of Joyce, Wilde, Yeats; it stands still at the GPO...Walking through Temple Bar or Grafton Street, on cobblestones leading me past street musicians and shoppers, or people sitting outside enjoying the surroundings, I felt surprisingly comfortable."
May 27th
[In the Dingle Peninsula]...."Sand in my toes and fresh air in my lungs, laughing with Nathan as the Shannon River guides us home and the essence of Ireland, everything we've come to know and love- signs written in Irish, bright green farmfields, stone walls covered in ivy, baby lambs and cows in every pasture, brightly colored cottages, B&B signs- flashes past our windows. That is the epitome of a wonderful day."
May 28th
[After visiting Coole Park]..."The biggest gift Coole Park gave me today was an acceptance of having to leave and return to reality. It is as if, having seen so much loveliness these past few weeks, I am now full, with enough inside of my soul to sustain me for years to come. It gave me inspiration, to go back and accomplish something of my own. But most of all, it acted as a farewell, acknowledging my new place here and returning all the love I have for this country with some love of its own."