Currently Reading:
Charlotte Bronte: A Passionate Life
by Lyndall Gordon
, Little Women
by Louisa May Alcott, and
The Yellow House
by Patricia Falvey.
Today has been a Christmas baking day, one full of cinnamon smells, wiping flour on my apron, and licking dough from bowls. My back is sore but my heart is full. Everywhere I look, I feel and see Christmas- from the carols serenading us to the lights on the Christmas tree to the bags full of Christmas goodies on the counters. (Nate playing Harry Potter Lego on the Xbox isn't exactly Christmas, but I'll take it anyway.) :) This year, we used our new Advent wreath (
Adventskranz
for us German folk) to celebrate the Advent season. While we got a little behind on lighting the candles, we are making sure that all four will be lit tonight as Advent ends and the Christmas celebrating begins.
I am a little nervous for Christmas this year, for it will be our first one without Opa. He won't be there to put on his obviously-fake-but-terribly-cute Santa wig and beard to pass out his "special envelopes," or to sit at the head of the table during Christmas dinner. He won't be making up his own silly lyrics to a Christmas carol and making me laugh- not at the lyrics but at the silly voice he uses. I dreamt about him several weeks ago, and he was using that silly voice again, making a joke just for me. I missed it. It was good to hear it again.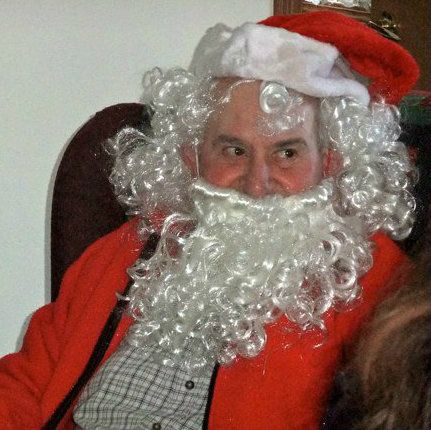 Every year, my sister, Nathan, and I put up our Oma's Christmas village after Thanksgiving. It is something my sister and I have always done; Nate has now become part of the tradition. Ever since we were little, we have lugged up boxes of porcelain houses and accessories, and proceed to perfectly design a little Christmas village in the middle of Oma's living room. We have never missed a year.
While we do this, we always listen to the same CD of Christmas carols, Oma bustles in and out with extra tablecloths and some mugs of hot cocoa, and Opa would sit in his chair, watching us and giving us pointers. Two years ago, as he watched and we admired our handiwork, he said something about how someday he wouldn't be here to see us put up the Christmas village. And then he started to cry. Real tears.
The only time I have ever seen him cry was when he would tell the dog fart story that made him laugh so hard, he was sobbing. But this time was different. Suddenly, my Opa was showing us how important our little ritual was to him, and how much he would miss it when he was gone. In shock, I went to him and laid my head in his lap and cried with him for a minute or two. Then we dried our eyes, and laughed, and I fetched him cocoa. That was really the last time he was with us for the construction of the village. Last year, he still sat and watched us, but he was more listless and a bit unaware of what was going on. This year, of course, my sister and I fought back the tears as Roger Whittaker's version of "Ding Dong Merrily On High" sailed into the room and we began to lift houses out of boxes. His chair was empty. But he and I had that moment, that good-bye to our tradition together two years ago and when I look back on it, I am so glad it happened. That is one of my favorite memories of my Opa, despite the heartache of it.
Putting up the Christmas village this year was hard, but we made it. I like to think it was our precursor to what Christmas will be like this year- hard and dreadfully sad, but still bearable. Still happy. Still celebrating.
I will celebrate the family I have, here and there. I will celebrate the 24 years I had with the greatest Opa of them all, and I will celebrate that someday I will get to see him again. And I will celebrate love, and magic, and hope, which is stronger than the pain and the heartache of loss. My soul is at peace and ready for the joy that is Christmas.
I intended to discuss my journey into Louisa May Alcott's world recently, as I finished the biography
Marmee and Louisa
, read several of her short stories, and started reading
Little Women
out loud to Nathan.... but it seems like I needed to get this out today. Thank you for listening. Merry Christmas, everyone!