Currently Reading:
Dubliners
by James Joyce
Well, today was not the day I was hoping for. I hoped I would be sitting in Panera, eating a delicious quiche, and suddenly get a phone call from my husband telling me he got the job- the teaching job he has been waiting for and worked so hard for and gone through
two rounds
of interviews for. And then I would scream in the middle of this crowded restaurant while everyone looked at me like I was insane but I wouldn't care because our prayers would finally be answered and my husband would finally be a teacher.
But no. I am sitting in a Panera with a caramel latte and a bagel, trying to squash the big tumor of disappointment and sadness that grew in my stomach in the two seconds it took for my husband to check his email this morning and tell me, "I didn't get it." In those two seconds, the sun got darker and the doors in our figurative hallway seemed to slam shut.
We have dealt with disappointment before. In this economy, with the teaching profession difficult to break into, we have gone through three years of applications, resumes, hoping, praying, waiting, only to end in a helpless sadness that barges in like an unwelcome houseguest. And while we trust in God's plan and always feel better in the morning, that initial disappointment never gets easier to bear.
But life goes on and we smile and pick ourselves up and remind each other of all the things we have and everything we are looking forward to: growing herbs on our balcony, going to Ireland, watching Shakespeare plays, making a summer reading list, going to Madison's Dairy Expo. You know, the things that really count.
~~~~~~~~~~~~~~
In the midst of reading
Eden's Outcasts
(which I finished and loved and even wept over... stay tuned for another blog post on that one... it was too good not to discuss it more), a certain book came in the mail that I had ordered several months ago: a memoir called
Bloom: Finding Beauty in the Unexpected.
Discussing it today is just the medicine I need right now- just another example that
God truly pulls the perfect book off of the shelf right when we need it.
I have been following
Kelle Hampton's
blog, "Enjoying the Small Things" for almost a year now. Kelle writes honestly and openly about her life- raising two girls, discovering her purpose, enjoying life. She is a phenomenal writer, as well as an amazingly talented photographer and her passions find full release through her lovely blog. I have found inspiration, laughs, and a great read every time I visit. Two years ago, Kelle gave birth to her second daughter, a beautiful, perfect girl who happened to have Down Syndrome. This came as a blow to Kelle and her family, who had never known or expected it. Lying in her hospital bed, Kelle saw all of the plans and hopes she had envisioned for her life and her girls disappear. The next year was a whirlwind of emotions and anxieties for Kelle, but also a time of personal growth and the blossoming of a deep love affair between Kelle and her baby Nella. It was also a learning experience, as Kelle wrestled with her life's expectations and coming to terms with the changes she now had to embrace.
Bloom
documents this life-changing year as Kelle honestly shares her thoughts and worries, and explores how this once shocking diagnosis changed her outlook on her expectations and taught her how to
bloom where you are planted.
Coupled with her amazing photographs, this book really is like opening a door into her life and discovering an amazing woman, mother, wife, and friend.
Kelle's blog has always inspired me to relish the little things in my life and encouraged my "glass half full" mentality. But this book truly took me inside her struggles as a mother who only wants the best for her little girls. Her open honesty made me cry multiple times as I read, but much of her writing made me laugh out loud, for not only is she freakin' hilarious, but she writes as though she is sitting there with you, with pajamas on and tea in hand at the world's best slumber party. I may not be a mother yet, but my soul ached for her and cheered with her as she discovered the new and unexpected, but no less beautiful, life that she has been blessed with.
Today, Nella is a beautiful two-year-old, talking and walking, and cute as a button. Kelle's new life experiences has turned into a crusade for educating others on DS and raising money for the National Down Syndrome Society, in order to promote the wellbeing of all individuals with DS. Her work is inspiring and her attitude toward life even more so. I find it amazing to see how Kelle turned an unexpected twist in life into something so positive; we can all take a leaf out of her book.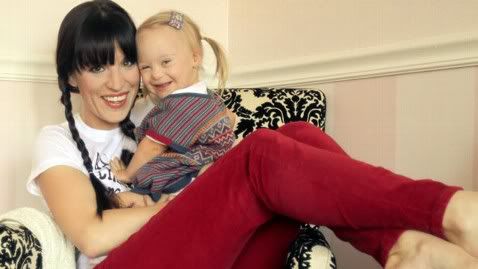 Photo courtesy of Kelle Hampton
No matter where we are in life, disappointment and unplanned surprises will rock our world. Ironically enough, I am struggling with a big mug of disappointment even today. But these instances test our character and reveal who we truly are. Sure, I often get stressed over unimportant details in life. But I like to think that when my boat is rocked, I handle it with more grace than I knew I had. It is a great reassurance to hear how others handle adversity and find that no one is alone in their struggles. I truly realized, through Kelle's story, that if life is too comfortable, we tend to take it for granted. Instead, it's the struggles which make the triumphs sweeter. The perfect life does exist, but it is all in our perspective. A good reminder for me today... and every day, for that matter.
If you need an inspiring, thought-provoking, and lovely read, please buy
Bloom.
It is too good to pass up.
~~~~~~~~~~~~~~~~~~
It's amazing how much better I feel after writing it all out. Forget therapy- this blog is the perfect therapist, complete with couch and tissues. That felt good.
Before I go, I want to give a shout-out to a new blog I have discovered that I think you all will enjoy.
Jillian
is my new blogger friend and name twin who shares my love of literature and writing about her reading journey. Her writing is beautiful and her posts range from funny to inspiring. Check her out!
What are some of the simple things that make life sweeter for you? I'd love to hear about it! Have a great week!