Currently Reading:
America's Resting Place: 400 Years of History Through Our Cemeteries and Burial Grounds
by Marilyn Yalom
I read
The Guernsey Literary and Potato Peel Pie Society
in two days. It was that good.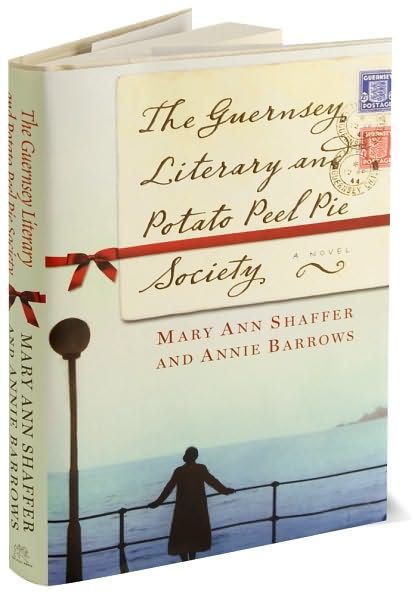 After
David Copperfield
, I needed a quick, light read and this fit the bill perfectly. It had received glowing reviews from my sister-in-law, aunt,and coworker, so I knew I would enjoy it. To be quite honest though, I feel it is a book best read outside in the summertime, when the leaves are whispering and one can run through the grass, not during the cold dead of winter; maybe I'll just have to pick it up again in several months when the time feels right!
The book is, overall, about the saving grace of books and reading. Each character, living through traumatic and challenging times during the German Occupation in WWII, found books that spoke to them and helped them cope, even survive. It was fascinating to read how farmers and fisherman leaned on Oscar Wilde, Charles Lamb, and Seneca during food shortage, evacuations, and terror. I have always believed in the inherent power of books to change us, to change the world. This book exemplified my most fervent beliefs. We read for pleasure and enjoyment, it is true. Yet the effect books can have on us goes beyond mere entertainment. Books have the power to build us up, depress us, change the world, destroy it. They inspire us to change our lives, our perspectives, and even to lead us down new paths with new interests. They challenge us to get outside our comfort zones and address truths we didn't even know existed. I will forever be passionate about books, for they lead to everything else.
Since I am short on time today, I merely want to leave you with some of the book's most profound quotes that state, in a deeply elegant way, the power and lure of books in our lives.
"Perhaps there is some secret sort of homing instinct in books that brings them to their perfect readers. How delightful if that were true."
"Reading good books ruins you for enjoying bad books."
(Hehe)
And the best for last:
"That's what I love about reading: one tiny thing will interest you in a book, and that tiny thing will lead you onto another book, and another bit there will lead you onto a third book. It's geometrically progressive- all with no end in sight, and for no other reason than sheer enjoyment."
I hope you get time to lose yourself in a book this weekend. And I'm curious to know: how have books changed you? Happy reading!